Welcome to the Parish Church of St Mary the Virgin in the heart of St Neots
Forming disciples of Jesus Christ for the transformation of God's world
Join us in building a welcoming, caring, Christian community that draws on all that is best from the rich traditions of the historic Church of England and modern liturgical practice to make the message of the gospel of Jesus Christ live for the people of St Neots today.
Our main Sunday Service is at 10am.
Do join us - everyone is warmly welcomed and we are especially pleased to see young and old at our services.
The Rev'd Dr Paul Andrews, Vicar,
Please note that the vicar will be on sabbatical leave until 25 October 2016, for all enquiries please email: office@stneots.org
Holy Communion at St Mary's Primary Academy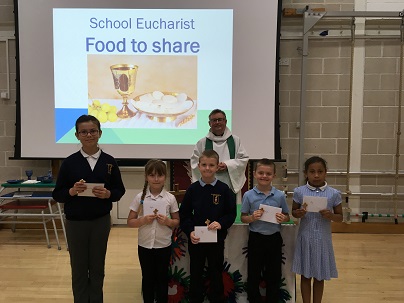 Fr Paul with Aleksandra, Matylda, Alfie, Hayden and Paige, who were admitted to Holy Communion for the first time at the School Eucharist held at St Mary's Church of England Primary Academy on 1 July 2016
Congratulations and well done to all five children
Youth Club
Wondering what to do from 5.30pm through to 7.00pm on a Friday?
Are you between 9 and 14 years old?
Want to join in fun and games and learn about life?
Would you like to meet people and make new friends in a safe environment?
Come and see what we do at the St Neots Parish church rooms, next to the Church.
If you would like to know more ring Glenn and Maggie on 01480 384423 or Rev. Debbie on 01480390509 or just come along.
Electronic Newsletter
Would you like to receive a copy of our newsletter? If so, please email us at webmaster@stneots.org
St John's Hospice
It's back, bigger and better than ever – Busk Till Dusk 2016
Following the amazing success of last year's event, we are pleased to announce Busk till Dusk 2016. This year's event promises to be even bigger and better.
We had some fantastic acts, some whom are reappearing this year. The event takes place on August 13 at St John's Hospice, from 3pm to 10pm.
This festival-in-a-day really has something for everyone. From classical to rock, pop and everything in between you won't be disappointed.
It's an event that you won't forget, while raising lots of money for your local hospice. It's going to be a superb day and one you won't want to miss.
We welcome music lovers to bring their blankets, picnics and painted faces. There will be something for everybody including a variety of food traders and our very own St John's Bar serving real ales, cider and Pimms, with all profits coming to the hospice.
It's going to be a really fantastic day so bring your friends, family and anyone who loves to get down and boogie.
For more information or to buy your tickets go to: http://www.busktilldusk.com